GET THE EXCLUSIVE ALBUMS!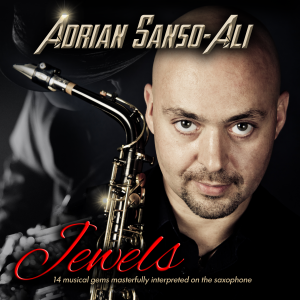 Jewels is a collection of 14 pop classics and famous saxophone hits masterfully interpreted by Adrian Sanso-Ali, whose unique style complements these musical gems while still maintaining their original feel. One hour of beautiful music in an exclusive album only available here! Purchase an instant digital download, request a physical CD to be sent to your home, or do both for a reduced price.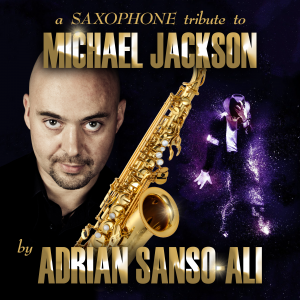 A Saxophone Tribute to Michael Jackson
The music of Michael Jackson like you've never heard before! Adrian Sanso-Ali performs his own unique saxophone arrangements of Michael's biggest hits, in an exclusive album only available here. Over 50 minutes of musical action. You can purchase an instant digital download, have a physical CD sent to your address, or do both for a reduced price.
Born in Birmingham, England, composer, arranger, producer, and accomplished saxophonist Adrian Sanso-Ali has captivated audiences on two continents since his first onstage performance at age 8.
After studying classical piano and clarinet, Adrian was eventually introduced to the saxophone at age 13 by legendary jazz saxophonist Andy Hamilton MBE, and he and his younger brothers soon became The Rossello Brothers, known as Birmingham's youngest jazz group.
Since then Adrian has led a number of other music groups, including the Smooth Jazz Quartet (2003-2004), and the gospel group Karismata (2009-2012). Adrian played first alto sax with the Orquidea Big Band in Mallorca, Spain, from 1999 to 2003, and was a member of the show choir The Young Ambassadors, with whom he toured the USA a number of times between 1992 and 1996. From 2006 onwards, Adrian has starred in a number of Summer shows produced by the Spanish show company Romantic Corporate, alongside a host of international singers and musicians.
Adrian has collaborated with countless artists during his career, from a number of musical genres. These include Spanish Pop stars David Bustamante, Merche and David deMaria, New-age-style pianist David Michael Bilowus, Jazz saxophonists Andy Hamilton and Molly Duncan, Asian Underground producer TJ Rehmi, Contemporary Christian artists Noel Richards and Ross Jutsum, European beatbox champion Lytos, the Ambassador University Chamber Orchestra, a host of DJs from Angel Rod to Diablo V, and numerous Big Bands. His audiences have been equally varied, ranging from prison inmates to the King and Queen of Spain!
Adrian specializes in the saxophone, performing on a black chrome-plated B&S Alto and a curved Yanagisawa Soprano. His LED-lit Alto is his preferred instrument for soul, rock and jazz, while his "baby" sax is used primarily to play Kenny G-style ballads, on which he can hold a single note for up to nine minutes using circular breathing!
Adrian is based in Majorca, Spain, where he has performed in most of its top venues: Son Amar, Es Foguero, Tito's Palace, Hotel Son Vida, Mood Beach, Hotel Barceló Formentor, Hotel Golf Santa Ponsa, Auditorium Sa Mániga, Teatro de Manacor, El Divino, Barracuda Nightclub, Flanigan's, to name just a few.
Adrian is available for local or international bookings as a live or studio session musician or as a solo or group act. With a wide range of experience in the entertainment industry (Past jobs range from classical pianist to jazz saxophonist, instrument repairman to sound technician, drum teacher to band leader, and Majorcan folk dancer to Michael Jackson impersonator!), Adrian is a versatile musician who can identify with the different aspects of the entertainment world. He is at home in any musical genre and in any music group formation. He loves working with other artists and is known for his musicianship.