The Story of

The Rossello Brothers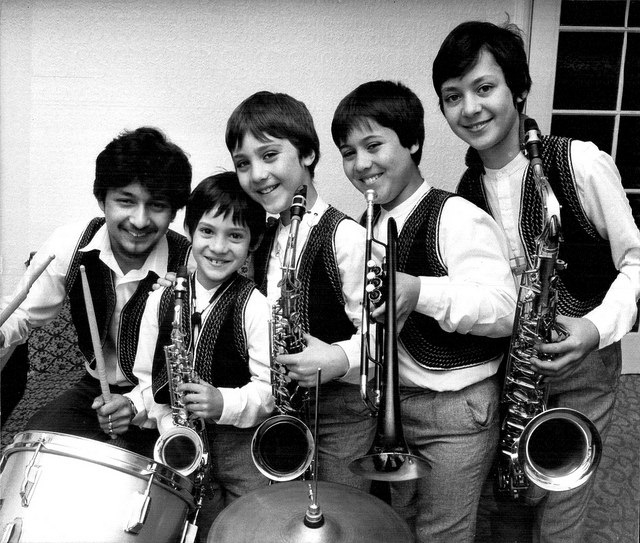 Dorothy Rossello's dream of having her five young sons form a music group finally came true in 1983 when the boys were discovered by legendary jazz saxophonist Andy Hamilton.
From a very young age, Adrian, Antony, Alexander and Angelo had been studying classical music on the piano and wind instruments. But now they were thrust into the world of Jazz, quickly becoming part of Hamilton's big band, The Blue Pearls. At the same time, joined by oldest brother Andrew on drums, the boys formed their own show group, The Five As. They soon attracted media attention in their home town Birmingham (England), as youngest brother Angelo was only seven years old at the time.
In 1984, nineteen-year-old Andrew left the group to follow other interests. Adrian, the eldest of the remaining four and the one with the most musical studies, became the band leader, with their mother as the group's manager and sponsor. Thus, the Rossello Brothers was born, and became a standard part of Andy Hamilton's show. Not only were they the only children in his big band, but the boys also performed a number of pieces on their own. Andy provided them with a drummer, a guitarist and a bass player for their gigs apart from The Blue Pearls, and also introduced them to his own long-time musical arranger, Norman "Steve" Stevens. Steve took them under his wings and became their arranger and mentor, and also taught Adrian how to lead the group and make his own musical arrangements.
Characterized by their three-sax-and-a-trumpet setup (with Antony on a black trumpet and Angelo, being the smallest, on a curved soprano saxophone), their brightly-coloured outfits, and a James Last-style big band sound, the Rossello Brothers hit the clubs of Birmingham and beat the adults in many talent shows and contests. They appeared in the local press and on the radio as "Birmingham's youngest jazz group", and were the leading act in the local Live Aid concert for the starving in Africa, which was broadcast live on radio.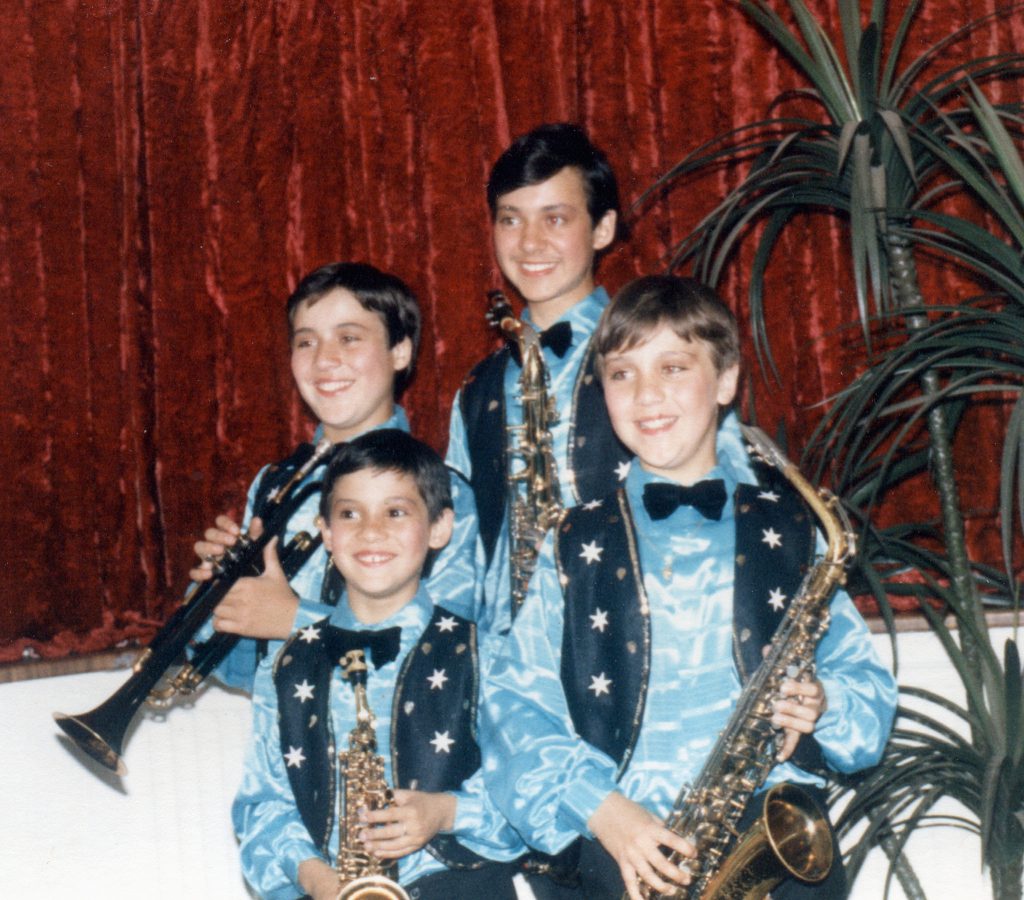 It was autumn 1985. The future looked very promising, and it was time for the brothers to record their first single. Written for them by Steve as a 12-bar-blues, and named simply Rossello Blues by Adrian, it became their first studio recording. The last-minute choice for side B of their vinyl single was Christopher Columbus, a piece from the 1930s that they had only just learned to play, but which had a catchy feel to it. Joining them on the recording were Jived Rehmi (later known as Asian underground composer and producer TJ Rehmi) on guitar and Raymond Grant (a.k.a. Ray "Pablo" Brown) on bass. Both former students of Andy Hamilton and accomplished musicians, they had taken a liking to the boys and often performed with them as their own backing musicians. Local professional drummer Richard Townsend completed the setup, and the whole session took no longer than half an hour to record. 

The boys' father, Jose, was from Mallorca, Spain, and it had always been the family's dream to emigrate back there. Now they were finally able to sell their home and make the move. But it was bad timing. Leaving behind a bright career and forecasts that the boys would be famous before age 20, the family arrived in Mallorca on Christmas Eve 1985, with no musical contacts at all. Without these contacts or the professional backing musicians that they had always taken for granted, the group hit rock bottom and had to start their music career from zero, with no outside help. 

Adrian became the group's arranger and teacher, taking over the role that Steve had played. Andrew agreed to re-join his brothers as drummer, together with his wife Razia on keyboards, until the boys could get on their feet again. Alexander laid aside his alto sax and taught himself to play the electric bass. It was a battle for survival. Their music had to change too: To please the local audiences the brothers had to completely change their repertoire to ballroom and Spanish dance music, which none of them enjoyed playing. The once-successful Rossello Brothers was reduced to an amateur dance band. Even the group's name was a problem, as now, under Spanish naming conventions the boys' surname was no longer Rossello, but Sanso-Ali. Worse still, whereas in England they had a unique name, in Mallorca Rossello was a very common surname. However, in an attempt to preserve their musical heritage, they opted not to change or translate the name of the group. 

As time went by most of the brothers lost their hope of hitting the big time. Music was no longer fun, but a chore. While his brothers were losing their interest in music, Adrian inherited his mother's big ambitions, which ironically put the two of them at odds with each other as they fought over the management of the group. Something drastic had to be done to save the Rossello Brothers.
Finally, in 1990, something was done. Three brothers, David, Daniel and Jaime Matamalas, close friends of Adrian's, were drafted into the group to form a new Rossello Brothers, even though only Daniel had any previous formal musical training, on the guitar. Adrian quickly taught David to play the drums, while Alexander taught Jaime the bass, so that he himself could return to playing the alto sax. All three Matamalas brothers were soon learning on their own.
The first performance of the newly reconfigured seven-member group was a great success. Adrian was now the group's manager, and under his leadership they began to finally move away from an amateur dance-band sound towards a more professional style of their own that they called "Rock 'n' Jazz." This style was exemplified by their trademark Rock/Dixieland version of When the Saints, which had evolved over a number of years as their encore piece. Dorothy continued to provide her sons with funds for sound equipment (something else that they had taken for granted in England) and a local friend of the family lent them a new synthesizer and sequencer, helping them to produce a more modern sound. Adrian began writing his own music for a future Rossello Brothers album, which they began to incorporate into their performances.
For the first time in many years, the Rossello Brothers began to achieve a certain level of popularity, appearing on radio shows and performing in many local fiestas. In 1991 the group reached the height of its career when they flew to Barcelona to appear in the TV3 program "E.X.I.T." with Llorenç Santamaría. For the appearance, Adrian re-invented a 12-bar-blues that Andy Hamilton had originally used to teach them how to improvise, based on a Count Basie theme. This piece, which Andy had called Jump for Jane, had accompanied the brothers since the very beginning, growing and evolving along with the group itself, although the final product was so different that Adrian renamed it Jump for Joy.
The time had finally come for the group to record its long-awaited album, and recording began in the beginning of 1992. Adrian contracted his friend Esteve Huguet, manager of the then-emerging Rock House music stores, to record the group. Both Esteve and Adrian were experimenting with new digital recording technology using a computer, a sequencer and a number of keyboards and sound modules. They decided to start by re-recording new versions of Rossello Blues and Christopher Columbus to use on the album only as back-up in case they didn't have enough pieces of their own to record, and also as practice in using the new technology. As a tribute to Steve, who had died of cancer a year after the brothers left England, Adrian extended Rossello Blues and added a piano solo identical to one played by Steve himself while improvising with the boys during a practice session in 1985, and which had been casually recorded on tape. 
The 1992 recording and mixing of Rossello Blues and Christopher Columbus took eight months to complete. "I got carried away" recalls Adrian. "I was like a kid in a candy store. Suddenly I had infinite options to add an infinite variety of digital musical instruments to my arrangements. I was no longer confined to a couple of saxes and a trumpet. I kept adding instruments and perfecting David's drum fills to the point that the recordings sounded like a heavy metal drum machine accompanied by an orchestra of computers!" 
However, even during the recording project, it was already apparent that the group could not go on for much longer. Angelo had already dropped out due to lack of interest, after being gradually left further and further behind by his older brothers who had more years of musical studies. The childhood group had grown up, and each member had his own interests in life to pursue. What worked great for them as children could no longer work for them as adults, and the group had to end. When Adrian was accepted to study at a university in Texas, USA, the group took the opportunity to formally end the Rossello Brothers with a final farewell concert in July 1992. After that, Adrian began his solo career in the USA as Adrian Sanso-Ali, before returning to Spain as an established musician.